Educator Profiles
Clay Kaufman, Co–Head of School, The Siena School, Silver Spring, MD
Clay Kaufman has been an educator in the Washington DC area for over 20 years. In a long career working with Elizabeth Ely at The Field School he served in a variety of capacities, including teacher, math department chair, college counselor, director of admission, accreditation chair and community liaison and design committee member during the school's move to a new campus in 2002. As a teacher, he has implemented hands–on, experiential learning and developed integrated curricula in the humanities and math/science, and has worked with students with many different kinds of learning styles. He has been selected for a variety of leadership roles, including: the E.E. Ford Fellowship for private school leadership; the Fulbright Teacher Exchange Program in Ankara, Turkey; and the National Endowment for the Humanities Independent Scholars program. He holds a B.A. in American studies from Yale University, and a Master's from Georgetown University.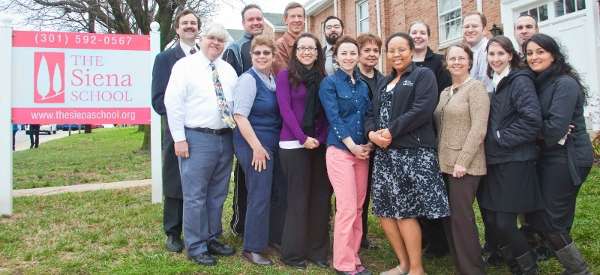 Clay (back row on the far left side) with his faculty and staff at The Siena School
The Siena School educates bright, college–bound students with mild to moderate language–based learning differences. At Siena, Mr. Kaufman has helped implement a multisensory, student–centered curriculum that emphasizes experiential learning. Students take an art class every day, and the school integrates art throughout the curriculum as well, a core part of Elizabeth Ely's philosophy. Students take monthly cross–curricular field trips, and the school evaluates student progress using oral and experiential assessments in addition to written assessments. The student–centered approach, including discussion-based classes, has proven effective not only for students with language–base learning differences, but for students in the general population as well.

Clay is also a member of the Board of the Elizabeth Ely Education Foundation.

©2011 Elizabeth Ely Education Foundation. All Rights Reserved.